WWE NXT results: Women's battle royal; Itami returns to the ring
By Arya Witner | @TheReallyRealAW | May 3, 2017 7:47 pm
The Big News: Asuka will face Ember Moon, Ruby Riot, and Nikki Cross in a fatal four-way at NXT TakeOver: Chicago after she didn't allow a finish in the number one contender's battle royal.
The Medium News: Roderick Strong will face Hideo Itami next week, with the winner challenging Bobby Roode at TakeOver.
The Little Beaver-sized News: Heavy Machinery cut a bad promo and were mocked by DIY for it.
**********
Killian Dain defeated Danny Burch
SAnitY kicked off the show this week. Killian Dain was here to face Danny Burch. Burch went from NXT jobber to released to brought back for the UK title tournament after a run on the indies and now was back to jobbing on NXT.
Burch charged into a lockup, but Dain powered him into the turnbuckles. Dain overpowered Burch all through the match, including using the Wasteland. Burch started a comeback, but Dain nailed him with a running dropkick and he picked up the win with the Ulster Plantation (One Winged Angel).
**********
A video package for the re-debuting Patrick Clark aired. He called himself the Velveteen Dream.
**********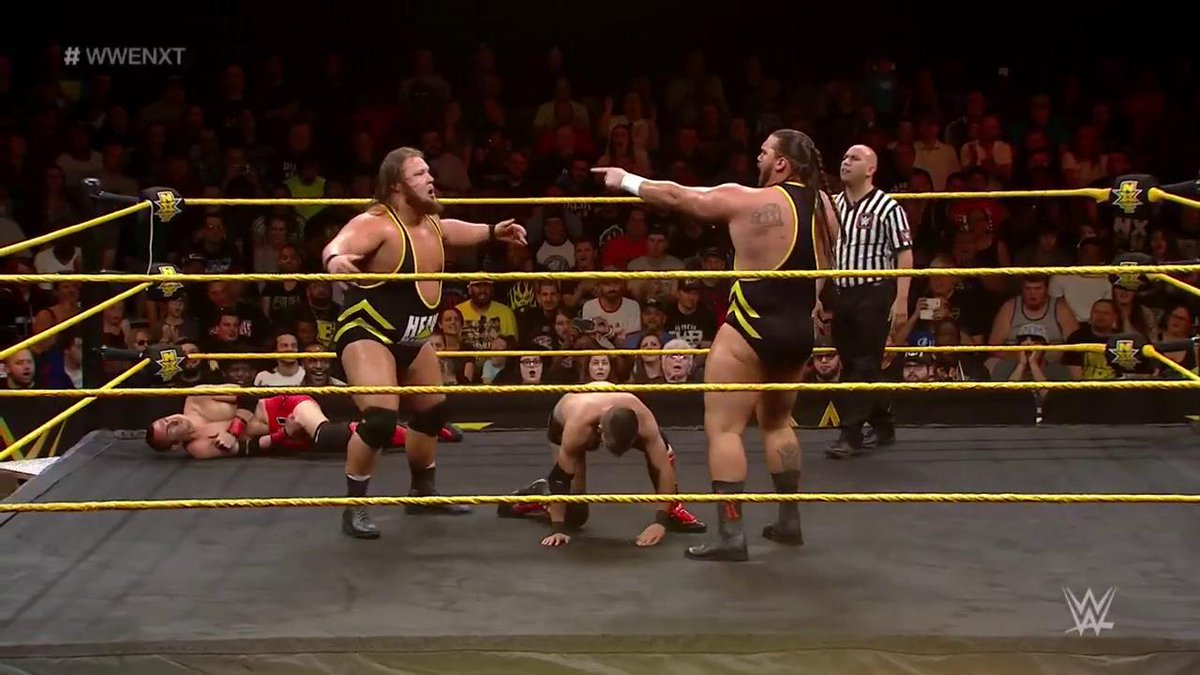 Heavy Machinery defeated Ricardo Watts & Hector Kunsman
Otis Dozovic weighs 340 pounds "on a good day" (whatever that means) and single-handedly outweighs their opponents. The result was never in doubt. Kunsman got heaved across the ring with a suplex and then Heavy Machinery did their falling body slam/splash finish on both men at once.
They cut a promo after the match, saying they love to eat and lift weights. They got the fans to chant "steaks and weights." They want the Authors of Pain. So much for a slow build.
Tucker Knight cut most of the promo, while Dozovic growled into the mic.
**********
Bobby Roode gave advice to Kona Reeves before the next match.
**********
DIY cut a promo backstage and said Heavy Machinery are big and mocked their entire promo. They said they are still owed a fair "one-on-one" rematch and the line for title matches starts behind them.
**********
Hideo Itami defeated Kona Reeves
Reeves attacked Itami before the bell, which got big heat from the crowd. The bell finally rang and Reeves was on the attack. Reeves got Itami down, but instead of following up the attack, he mocked Itami, so Itami kicked every exposed part of his body.
Itami got tired of kicking Reeves, so he pinned him after a Go to Sleep.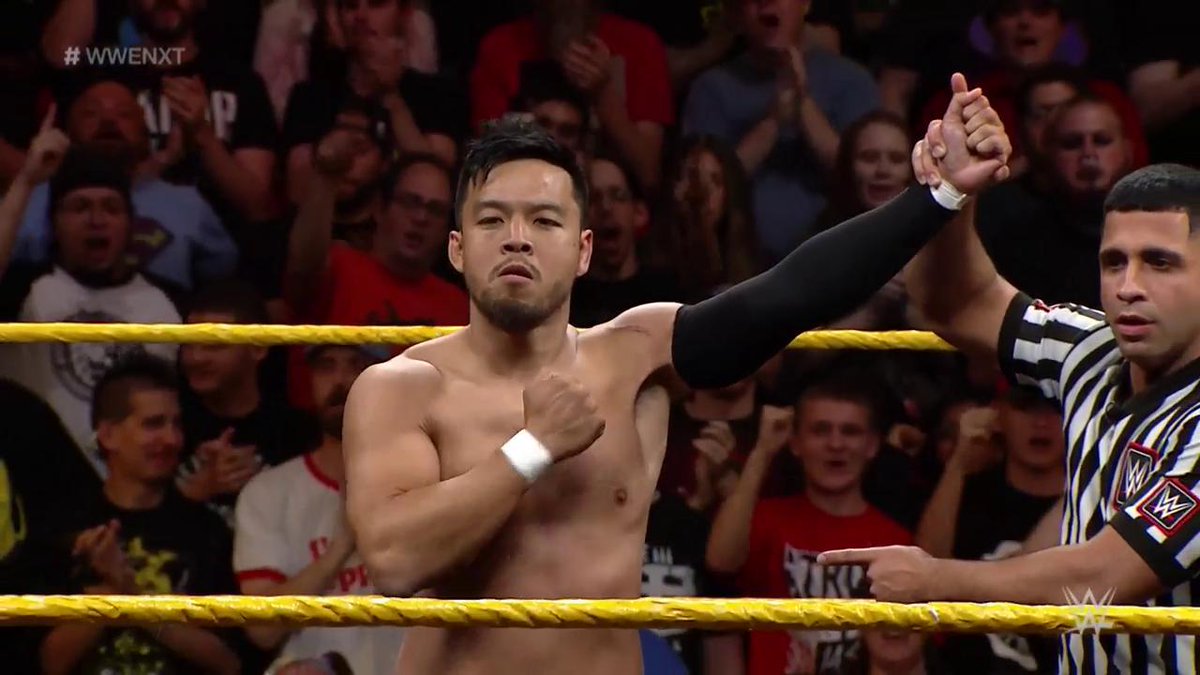 **********
A video package for Drew McIntyre aired, showing him in his Chosen One gimmick from 2009, skipping the 3MB era, and skipping ahead to the last month or so.
**********
Up next was part two in the "Who is Roderick Strong?" video series. It's still really good:
**********
William Regal and Bobby Roode were backstage. Mr. Regal went to tell him his TakeOver opponent, but Roode cut him off. Roode said that Hideo Itami is dangerous and doesn't deserve to face him.
Mr. Regal agreed that he needs to earn the opportunity, and said next week Itami will face Roderick Strong and the winner faces Roode at TakeOver.
**********
An Aleister Black video package aired. He'll be wrestling next week.
**********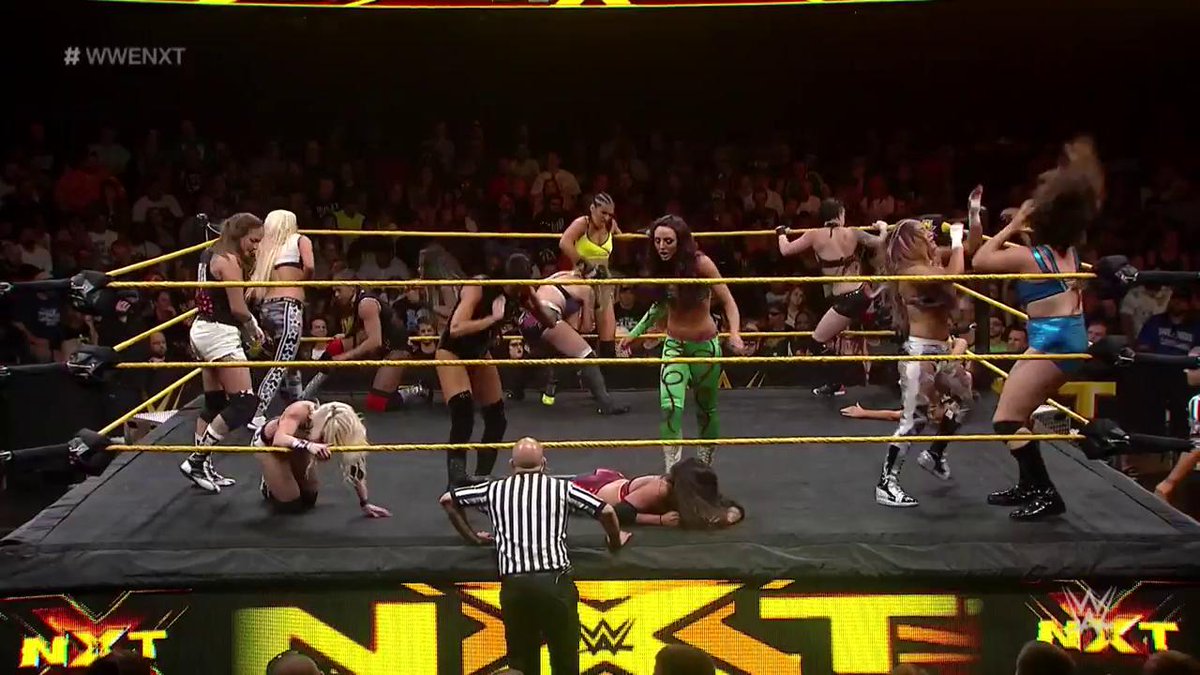 A number one contender's battle royal ended in a no contest when Asuka attacked the three remaining competitors (Ember Moon, Ruby Riot, and Nikki Cross)
Half of the women in this match have rarely, if ever, appeared on NXT before and a couple were from outside of WWE. The order of elimination was: Victoria Gonzales, Bianca Blair, Rachael Evers (Ellering), Sarah Bridges, Sonya Deville (the former Daria Berenato), Lacey Evans, Kimberly Frankele, Candice LeRae, Aliyah, Liv Morgan, Billie Kay, and Peyton Royce.
Kay and Royce were working together from the beginning. Gonzales went after the Iconic Duo at the start, but it didn't work. Evans kicked Cross in the butt to try to eliminate her. That didn't work, shockingly enough.
Kay and Royce eliminated several together. Shockingly, the eight women who have very rarely, if ever, been on the show, were the first eight gone. Moon single-handedly eliminated Kay and Royce even when it looked like they would have Kay interfere after being eliminated.
Riot, Cross, and Moon were the last three, and they went for several minutes by themselves. Moon hit Cross with the Eclipse, but couldn't get her up and out. Riot and Moon looked really good together and will one day have a good match. Moon went up top for another Eclipse, but Asuka appeared!
The referee called for the bell while Asuka destroyed the three remaining women and screamed that no one was ready for her. Moon took a nasty bump out of the ring that looked like a suicide dive into the guardrail. Moon may have injured her shoulder.
Who is going to face Asuka at NXT TakeOver: Chicago after she ruined the battle royal? Mr. Regal came out and announced a fatal four-way for TakeOver as the show went off the air, with Asuka facing Moon, Riot, and Cross.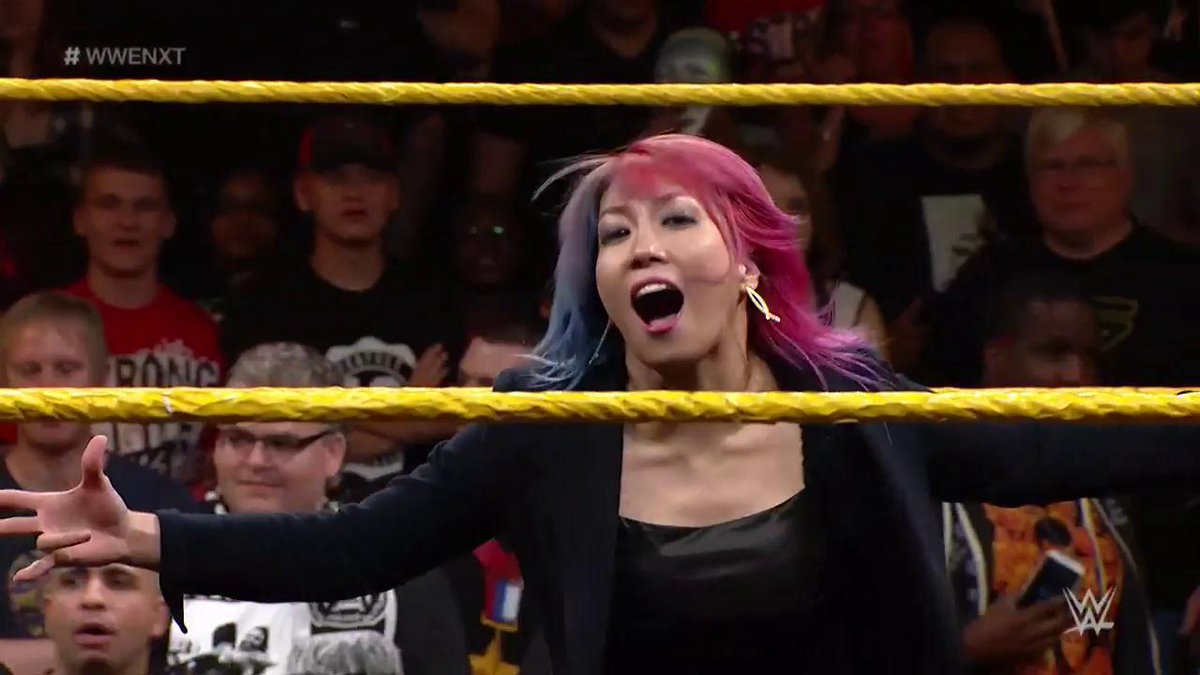 That does it for this week! What will happen next week as we are on the road to Chicago? Until then, remember to say your vitamins and take your prayers!